Instagram is a social networking app which allows you to share visual content from your phone. Instagram is designed as a mobile app, Instagram is not accessible from computer, You have to use the smartphone to share photos and videos. The functioning structure of an Instagram is similar to facebook and twitter. It has a profile and newsfeed options. When you share a photo on your profile, Other people who follow you will see your post in their newsfeed likewise You will see a photo when other people update a photo on their account.
Instagram works similarly to the other social networks but it was designed for the mobile purpose only and it contains only visual content such as photos and videos. First Instagram app was launched for iOS Operating devices and later Android Version was released. Instagram rapidly gained popularity, and it became a major option for all companies to promote their brands.
Here we discuss how to access Instagram from your computer.
There are many tools available to access Instagram from PC but most of them are allow us for viewing and downloading photos from Instagram. We can Post to Instagram from desktop by using following apps.
Flume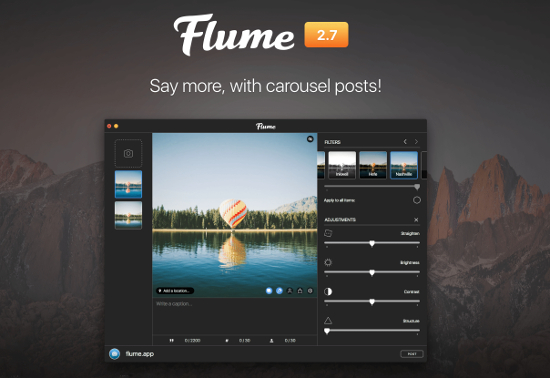 Flume is a desktop software for Instagram. Flume is only for Mac users, for windows Flume has not existed. To use Instagram in mac you have to install Flume app on your mac. When you open the app it will show your news feed in floating window. To see a picture you have to click on it and it will show the full picture with the details like date, username and comments. It has the option to change your view from list view to grid view (It will show thumbnails like app icons on our mobile phone).
Flume lets you upload photos and videos from your phone like operating Instagram app from your phone. You can edit your photos, add filters and you can make effects to your picture. Flume is not going to give you its full features in the free version, you have to buy Flume Pro app.
Flume pro has a lot of features.
It will allow you to manage multiple accounts
Flume allows Instagram Business Pages.
You can share photos directly to the Facebook, Twitter accounts.
You can download and upload photos&videos from your computer
Flume is a good and great looking app for desktop users. If it is that much important then go buy pro app.
Remember Flume is one of the best Instagram tools for mac. Flume was still not released in windows and linux versions.
Gramblr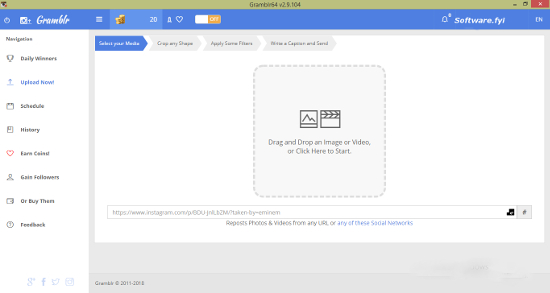 Gramblr is a desktop application that allows you to upload photos and videos to your Instagram account. Gramblr is a free tool, It has advanced features like photo filters, Image cropping. The main advantage with Gramblr is you can schedule your posts on Instagram. With this scheduling option, you can schedule your posts for one day, one week or even one month. Scheduling your daily or weekly work can be done within 10 -15 minutes, Gramblr will save your precious time.
Besides uploading photos to Instagram, Gramblr lets you increase your followers and likes. Gramblr gives free coins upon the signup, you can use these coins to increase likes on your pictures. Also you can buy coins from Gramblr.
Download the Gramblr and Install it on your computer, then log in with your Instagram username. After login it will show you upload, schedule and some other options which displayed in the above image. Here you can upload a photo from your PC or you can upload it from your photo URL from any other social networks. In the next step it will show you 50+ photo filters if you want you can select either you can skip them. The very next step and the main step is it will display box to write a caption and hashtags for your Post. Then in the final step it will show you two options publish immediately and publish some other time. Choose the time and date to schedule the post.
Gramblr will support mac and windows operating systems. It is a free Instagram desktop application.
Conclusion
The above two are the best applications to upload Instagram photos from your computer. These tools work perfectly to post Instagram photos and videos from PC. Other than these many Instagram desktop apps are available, most of them are just do the purpose of viewing and downloading photos from Instagram to computer. They don't have the option to upload or posting photos to the Instagram.