Trucking software is used in transportation and distribution activities. Trucking software is used in freight and logistics industry to function the various tasks involved from starting point to the end of the delivery.
These truck management software programs have many specifications like driver management, billing, fuel management, location tracking and mileage tracking etc. We will see each specification in detail way.
With the Truck management software, you can maintain the records of the trucks like how many trucks are sent and dispatched. It calculates the average time taken by the truck to reach the destination and it also calculates truck idle time and the speed of the truck. In some of the cases, it warns your driver about crossing speed limits and rash driving. It also concerns your employer's safety, it asks your driver to wear the seat belt. You can track vehicle location by using GPS technology. GPS fleet management software helps your customers to know about the delivery time of their goods.
These software applications will optimize your cargo shipment cost and help you to reduce the risk in your business.
1. Verizon Networkfleet Software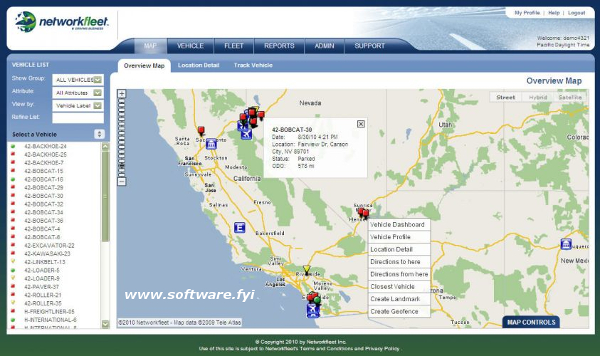 Verizon Networkfleet offers a full range of services. This software is easy to use and its reports are easy to understand. It shows the map and it displays the locations of the vehicles in your fleet. It updates vehicle information for every 2 minutes. Networkfleet software tracks your vehicles moments like which are running, which are stopped or which are parked. You can check each vehicle performance by clicking vehicle icons in the map. It will give you details about each vehicle individual performance like the speed of the vehicle, how long it's been idling and also it gives you warning messages like speeding, harsh breaking. It concerns about employers safety, it will let you know about your driver wearing the seat belt.
Networkfleet gives you clear visualizations of your freight operations on safety, keep trucks working, fuel management, routes etc, which will improve your business growth. You can view Networkfleet dashboard in computer and mobile. You can set custom alerts and you can also select who receives these alerts. These alerts and reports are sent to you and others via emails and text messages to your mobile.
Networkfleet mobile app available for both managers and drivers. You can view the reports on your smart phone or tablet.
2. NexTraq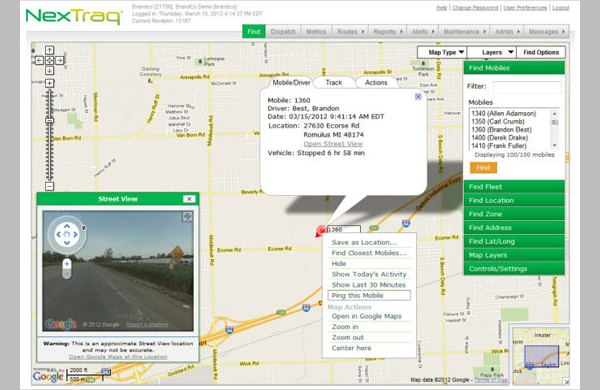 NexTraq fleet tracking software is a high quality software which comes with the variety of features. It offers services from minimum 2 vehicles to 2000 vehicles. NexTraq reports are easy to understand which comes in graphs and chart formats. NexTraq has an interactive map, you can create a geofencing area in the map by using zip codes. If your vehicle enters and leave's the geofenced are you will get alerted messages. It will allow you to see weather information around your vehicles, so you can take safety precautions for your vehicles and drivers. You can inform your customers about the delivery shipments which are late due to bad weather or storms.
NexTraq software stores your data forever, which helps you to monitor drivers performance quarterly, half yearly and yearly etc. This feedback allows you to train your driver abilities to improve their performance.
NexTraq fleet management software doesn't provide reports of engine failures and it doesn't let you know if drivers are wearing seatbelts or not.
NexTraq customer support is good they responds very quickly. You can ask your queries via telephone or emails.
3. Telogis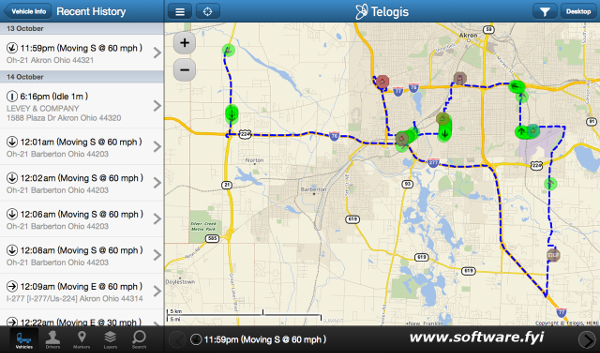 Telogis software provides full end to end services for fleet management companies. It covers lots of features like vehicle mileage tracking, idle time, fault engine codes and fuel management. Telogis lets you know what your drivers are doing at all times.
The best thing about telogis is that it has the powerful GPS tracking system. Telogis GPS will give you real time updates about each vehicle location and you can see the route of the ongoing vehicle. You can generate GPS tracking reports based on specific vehicles and entire fleet. Teogis allows fleet managers to view thousands of vehicles in one map and by zooming you can check the location of your specific vehicle.
The system can track maintenance needs like an oil change or engine repairs. This fleet management software sends automatic alerts when your drivers cross speed limitations, harsh breaking or when exhibit poor performance. Fleet managers can use these feedback to curb bad habits and enhance the driver's performance.
Telogis fleet managers can see the weather reports like storms or hurricanes so it can help your freights to opt for safety measurements. The disadvantage of telogis is it cannot tell you if your drivers are wearing seatbelts.
Overall Telogis trucking software works fine for freight industries from small scale to large scale. When you are opting for this software once check the company terms and conditions.
4. Axon Trucking Software
Axon software offers a full range of services to the trucking companies. This software offers complete monitoring to trucks and drivers. Axon trucking dispatch software is integrated with Axon accounting in real-time. If you enter the data once, it will automatically update all of your Axon systems. It will save your employees thousand hours of time, Meaning is when you use Axon software you don't need any other software.
Axon allows clients to store their financial statements, orders and generate invoices. It has an option to choose payroll management through they can manage payrolls and monthly checks for employees. Axon software allows you to generate custom reports according to your specifications. Axon stores the reports automatically which are generated by users.
Axon has app for the mobile phone you can download it from Google Playstore and Appstore. Through this app, you can manage and track your trucks.
Overall Axon software performance is good and it is suitable for mid-sized and small trucking companies. It integrates with third party applications. It offers good support via phone and online.